Bonjour.
Je voulais poster mon dernier délire débile graphique, à base d'un avatar que j'utilise parfois :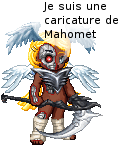 Vous êtes invité à participer au grand jeu de la caricature la plus stupide, mais bien entendu toute caricature insultante ou à caractère raciste ou discriminatoire (au lieu d'être juste stupide et pleine de non-sens comme la mienne :·D) sera sauvagement éliminée :·D.
Message cité 4 fois
Message édité par Hybrid Son Of Oxayotl le 03/02/2008 à 00:41:23
---------------
« La religion est une insulte à la dignité humaine. Que ce soit avec ou sans elle, il y aura toujours des gens bien qui font de bonnes choses, et des mauvais qui font de mauvaises choses. Mais pour que des gens bien agissent mal, il faut la religion. ».
Steven Weinberg
"All I say is that I think it is damned unlikely that anything like a central cosmic will, a spirit world, or an eternal survival of personality exist. They are the most preposterous and unjustified of all the guesses which can be made about the universe, and I am not enough of a hair-splitter to pretend that I don't regard them as arrant and negligible moonshine. In theory I am an agnostic, but pending the appearance of radical evidence I must be classed, practically and provisionally, as an atheist"
Howard Phillips Lovecraft.